10 Awesome Home Storage Hacks from the Experts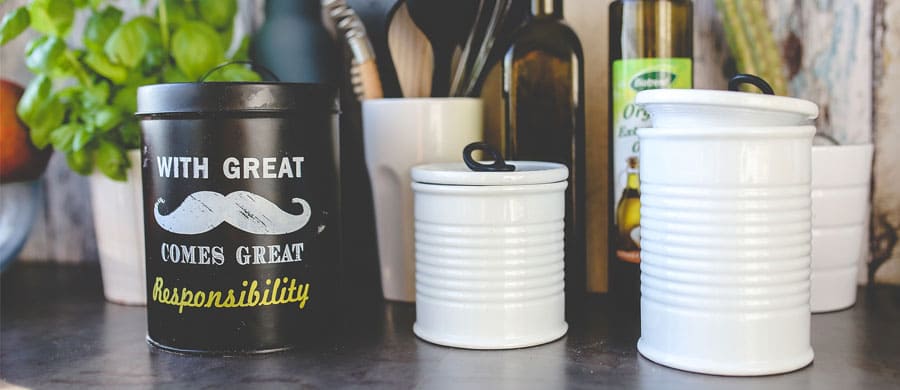 Storage hacks on the internet are a dime a dozen. A quick browse across Buzzfeed and Facebook will find hundreds of listicles claiming to revolutionise your home and, occasionally, your life.
Well, as storage experts we thought it was about time we chimed in, too.
For this article, we've asked a bunch of storage and space specialists to share their very best tips, tricks and hacks. Here's what they said.
Zoning and Sweeping
Jessica Andrews, interior brand stylist and founder of Rabbit & Other Stories, knows a thing or two about creating great spaces.
Here's her tip for hacking your thinking for more productive storage.
"I like to think of room tidying a little bit like a game of Tetris. It's all about the colour combinations and the zoning! The easiest way to tackle any organisational problem is to divide it into zones. This will then enable you to create a calm operation in stages all in one go. The second tip is to work in organisational sweeps. First a broad sweep into the main zones so that all items are in the right area, and then moving onto a finer details sweep, where you hone in on each zone one at a time.
'Zoning and Sweeping' should then enable you to see if you need to empty the room for a while, to create lasting storage solutions, or at least see how much extra space you have to play with." – Jessica Andrews
Use Magazine Racks as Kitchen Storage
The kitchen is, perhaps, the room most in need of storage hacks. Pots and pans, cups and cutlery, tables, toasters and teapots, the list goes on and on. There's so much to store and there's almost never enough space.
Thankfully, there are a couple parts of the kitchen that are, at best, underutilised and, at worst, completely ignored.
Here's Gary Lyons from the Plastic Box Shop on an easy way to maximise the space you've got available for storage.
"When it comes to kitchen storage, an area that homeowners often overlook is the inside of their cupboard doors. Magazine racks placed here are perfect for storing foil and cling film, while adhesive hooks will allow you to organise utensils so they're always to hand but remain out of sight when you're not using them."
Desk organisers also work for the fridge
"Desk organisers in the fridge?" I hear you ask. Yep, desk organisers in the fridge!
While the fridge is a brilliant invention, I think it could be improved with a little bit of organisational infrastructure.
There's a drawer for your salad, yes, but that's where the segmentation stops. Why not add more drawers and boxes to give yourself more options?
Desk organisers make the perfect storage solution and are generally small enough to slot into fridge shelves.
Use a wine rack as a towel holder
While wine racks make excellent racks for wine (surprise surprise), they also make surprisingly good design features when you swap the bottles for rolled towels.
It looks great, works like a treat and helps make a feature of your towels.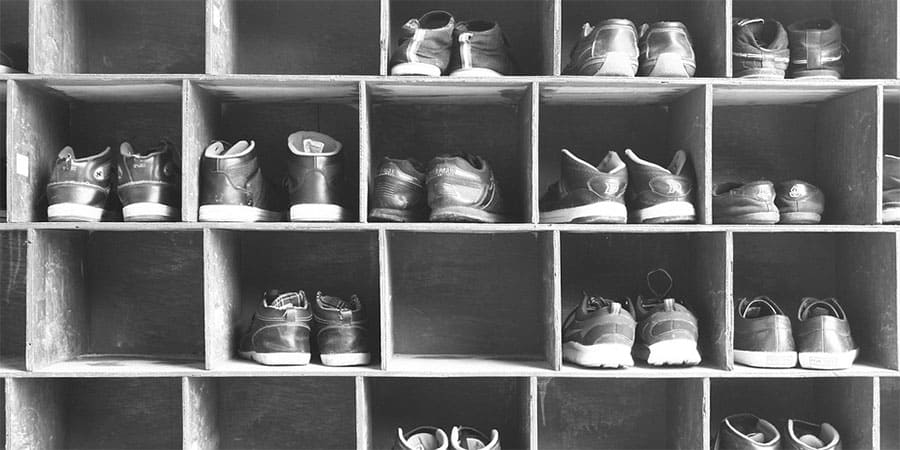 Shoe organisers everywhere
When it comes to lists of storage hacks, shoe organisers make regular appearances. However, they're almost always storing things other than shoes.
And this list is no different!
Shoe organisers are great for storing… well… almost anything!
Stick one on the back of your bathroom door and use it for toiletries or on a cupboard door for wires and electricals or in your living room for your kid's toys.
Shoe organisers are genuinely amazing and let you maximise unused vertical space. So, stick your shoes on the floor and start storing smart.
Maximise fridge space with a rotating tray
What's at the back of your fridge right now? A two-year-old jar of mustard that's more green than yellow? A carton of milk that should now be described as cheese? A forgotten apple that now resembles the mummified remains of Tutankhamun?
Don't worry, even the most storage savvy of us suffer from Forgotten Fridge Syndrome.
Thankfully, there's an easy storage hack to keep your fridge looking (and smelling) fresh!
Pick up a rotating food stand (normally used for cakes or dinner parties) and stick it in your fridge. Now, if you want to see what's at the back, you can simply spin everything around. Simple!
Stick Velcro on your remotes
The remote, much like Bigfoot, Nessie and the Yeti, is an elusive creature, skittish around humans and prone to hiding if scared.
That is why many of us spend inordinate amounts of time hunting for the remote under cushions, behind sofas and, if all other options are exhausted, inside fridges.
Well, no longer.
All you have to do is attach one piece of velcro to your remote and another to the underside of your coffee table and you've got a readymade holster in which to stow your currently unused wand of televisual magic.
Start thinking with magnets
While you might think you need a flat horizontal surface to store things, the storage savvy amongst us know that the walls are equally prime real estate.
Pick up some powerful magnets and glue them to whatever you want to store. Then get sticking to any metal surface you've got free.
Jars work especially well and look great when lined up on a wall or stuck to the underside of a cupboard.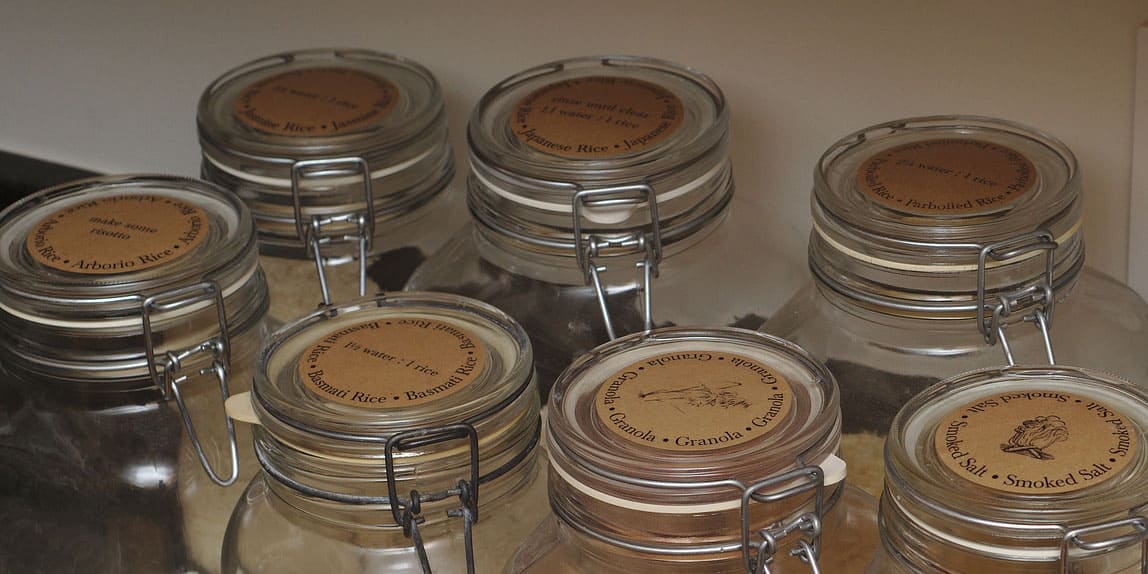 Vertical Labelling
Who out there stores their herbs and spices in a tray or a box with only the top visible? I know I did!
While this will save you space compared to a single layer spice rack, it makes finding anything a complete nightmare.
Instead of systematically lifting up every single jar and checking the label, why not add a label on top?
You could either write small labels or add a bit of blackboard paint to the lids and write the contents in chalk.
Repurpose kid's furniture for tight spaces
Kids furniture isn't just for the youngsters amongst us. Miniature furniture is perfect when you've got a small space but still need storage. Here's Ruth from Tidy Books' suggestion for a miniature shelf:
This kid's bunk bed shelf works hard in small spaces like the bathroom, too.
Small boxes, micro shelves and other bits of tiny furniture can all provide outstanding storage and look great at the same time!

Please fill out our contact form below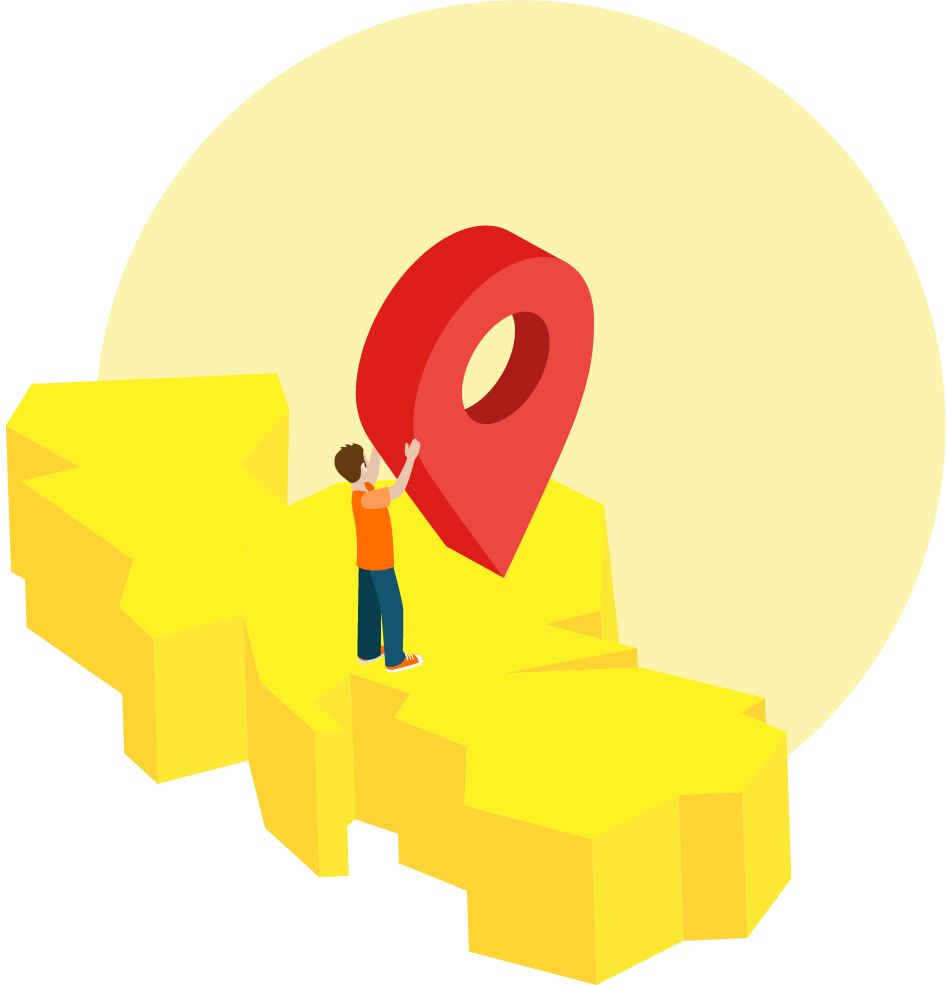 How Much Storage Do You Need?