Secure Storage Livingston
Craigshill Road, Livingston, EH54 5DT
5 Fleming Rd., Kirkton Campus, Livingston, EH54 7BN
Access Hours
Mon - Fri

24h

Sat & Sun

24h
Office Hours
Remotely managed Mon - Fri

9am - 5pm
Unsure of anything? Enquire Online
Why Choose Secure Storage Vault For Self Storage In Livingston
Since 2019, Storage Vault has been offering fantastic secure self storage solutions to Livingston and the surrounding area. Storage Vault Livingston is one of our 15 Scottish locations, providing first class self storage facilities with unbeatable value.
Offering X-Large, 100 sqft (10x10) storage units, our Livingston branch is the perfect self storage option for those who are looking for somewhere to store household furniture and larger objects, business equipment and materials, or simply require a place to store a large volume of items.
Located less than a 10-minute drive from Livingston Designer Outlet, Storage Vault's Livingston branch offers a fantastic, central location – easy to reach both by car and public transport. Plus, West Lothian College, Storage Vault Livingston is the perfect option for students looking for self storage in the Livingston area.
Our world-class security features, including CCTV surveillance 24 hours per day, padlocked and roller-shutter external units, and keypad entry gives you the peace of mind that your belongings are stored in a safe and secure environment. Plus, with 24 hour access and flexible terms, Storage Vault Livingston gives you the freedom to access and adjust your storage whenever you need.
So, whether you're looking for somewhere to put personal or domestic items such as household furniture, are a business owner in need of somewhere to store professional equipment, materials, or documents, or are a student who's planning to move into university or college accommodation – Storage Vault Livingston has something for everyone.
If you're a Livingston-based business owner looking for a modern, clean, professional environment, our sister brand, CoVault, offers fantastic workspace facilities to those in Livingston. With spaces ranging from 100 sqft to 3260 sqft, visit CoVault Livingston to discover what's on offer and reserve your workspace today.
No Deposit Needed
All Ground Floor Units
24/7 CCTV In Operation
Keypad Entry System
Clean, Dry, Safe & Secure
Best Value Guaranteed
Getting To Storage Vault Livingston
Storage Vault Livingston is located on Craigshill Road, straight across from Livingston Fire Station. Situated just 40 minutes from Glasgow City Centre, 30 minutes from Edinburgh City Centre, and 5 minutes off of the M8, our Livingston storage facility is almost at the very centre of the Scottish Central Belt.
From the A8 (after the Chapelhall junction) take the slip-road exit towards Edinburgh (M8) and merge onto the M8. At junction 3, take the A899 exit towards Livingston, then at Livingston Roundabout, take the first exit onto Livingston Road (A899). Take the exit toward Craigshill N. and bear left onto Cousland Rd. At the roundabout, take the second exit and turn onto Craigsland Rd., where you will arrive at Storage Vault Livingston.
Safe and Affordable Storage in Livingston
Discover fantastic facilities with incredible deals and unbeatable storage prices at Storage Vault Livingston. With 24 hour CCTV, an outstanding customer service team, and unlimited access to your unit, we make self storage simple, safe, and stress-free. Plus, our super friendly remote customer support team is on hand to ensure that you have a fantastic experience with us.
If you think you've found a cheaper price elsewhere, get in touch with our friendly customer service team, who'll help you find the best deal for you. Call us on 01506 537 284 today for more information.
No Commitment with Flexible Storage Units in Livingston
Some storage companies will require an upfront charge or deposit when renting out a storage unit – or, you may be required to agree to a long-term contract before the unit is reserved for you. That's why our super-flexible month-to-month terms and zero-deposit are designed to give you the ultimate freedom and flexibility when storing with us. With no waiting period once your unit is reserved, you can start storing with us straight away, hassle-free.
At Storage Vault Livingston, we offer a fantastic selection of premium x-large, 100 sqft (10×10), drive-up external units. With keypad entry, roller-shutter units, and 24-hour access, you have the freedom to access your storage whenever you need.
Student Storage
Our student storage units are located within close proximity to a number of universities and colleges. This makes it quite convenient for students to access their belongings at any time. Since the storage units aren't far, students don't only have to not worry about travelling long distances. They also don't have to worry about petrol costs. Shorter distances mean less money spent going back and forth from the campus to the storage unit when packing up items.
Over the school year, students accumulate more items than they came into the school year with originally. There are a number of student societies and clubs to join and all of these come with the expectation that you'll buy the appropriate equipment. Next thing you know their clothes don't fit in the boxes they brought with them at the beginning of the year. That's why an easy solution to that problem is to use student storage. Stuffing boxes could be a thing of the past with our storage units. Instead, you can store your newly acquired equipment away until you need them again next semester.
What is the point of packing up a student's entire dorm room? Then loading it in their parent's car, and lugging it all the way home? Especially when some of those same items that took them forever to pack up, have to be brought back in a few months. It's a lot of effort for no reason. Other than the fact the dorm has to be empty over Summer. That's why Storage Vault student storage in Livingston is so useful. Our local storage units make it easy to store items that you're going to need to bring back in a nearby, secure location.
Storage Vault has a number of advantages over using other storage facilities. We offer 24/7 access to your unit. This is especially useful for students and their infamously hectic schedules. If you've stored a book you need away in one of our units, and suddenly remember you need it at 2 am the night before class, you won't have a problem. You can easily retrieve it at your convenience. We also keep items secure by utilising a secure keypad entry system and 24/7 CCTV.
If you're interested in renting a storage unit with us, please don't hesitate to get in contact. We are always happy to help!
"Storage Vault have been great, no pressure to buy their own padlock or sell us extras. I am planning to recommend them to friends who are also on the move."
John Cochrane
"Staff will go above and beyond for you. I'm extremely happy with the service offered and decent deals/prices too."
Vickie Reilly
"First time using a storage unit and I wasn't quite sure what to expect. I was taken aback with how modern and professional the whole process was and at great value too!"
Richard Park
"Fantastic experience at Storage Vault a few weeks ago. Staff were very friendly and full of tips for how to pack my unit properly."
Vicky Cuthbertson
What Type Of Self Storage We Specialise In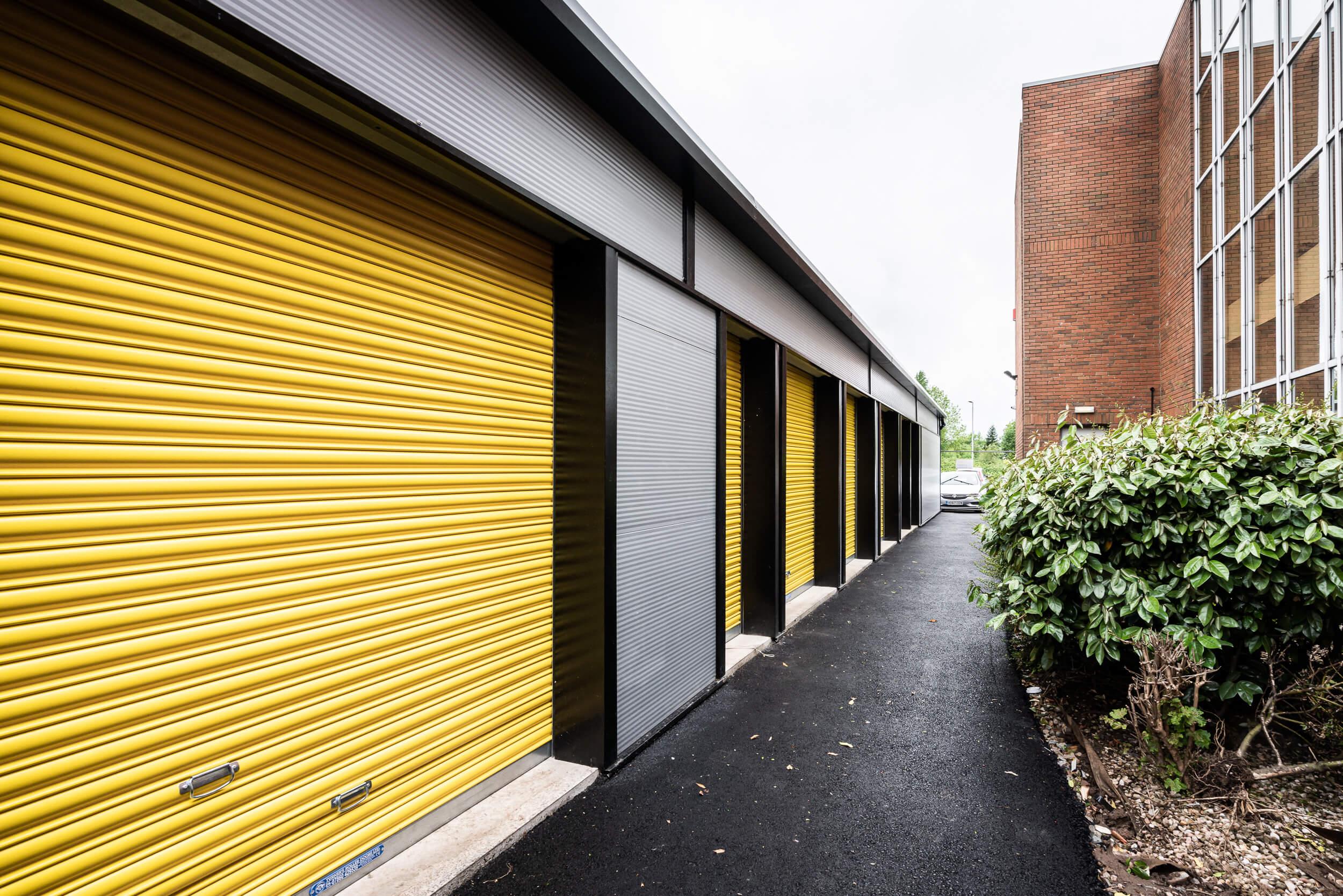 If you're getting ready for a home move, need somewhere to store important items or belongings, or simply need some extra space – Storage Vault Livingston has a perfect self storage solution for you.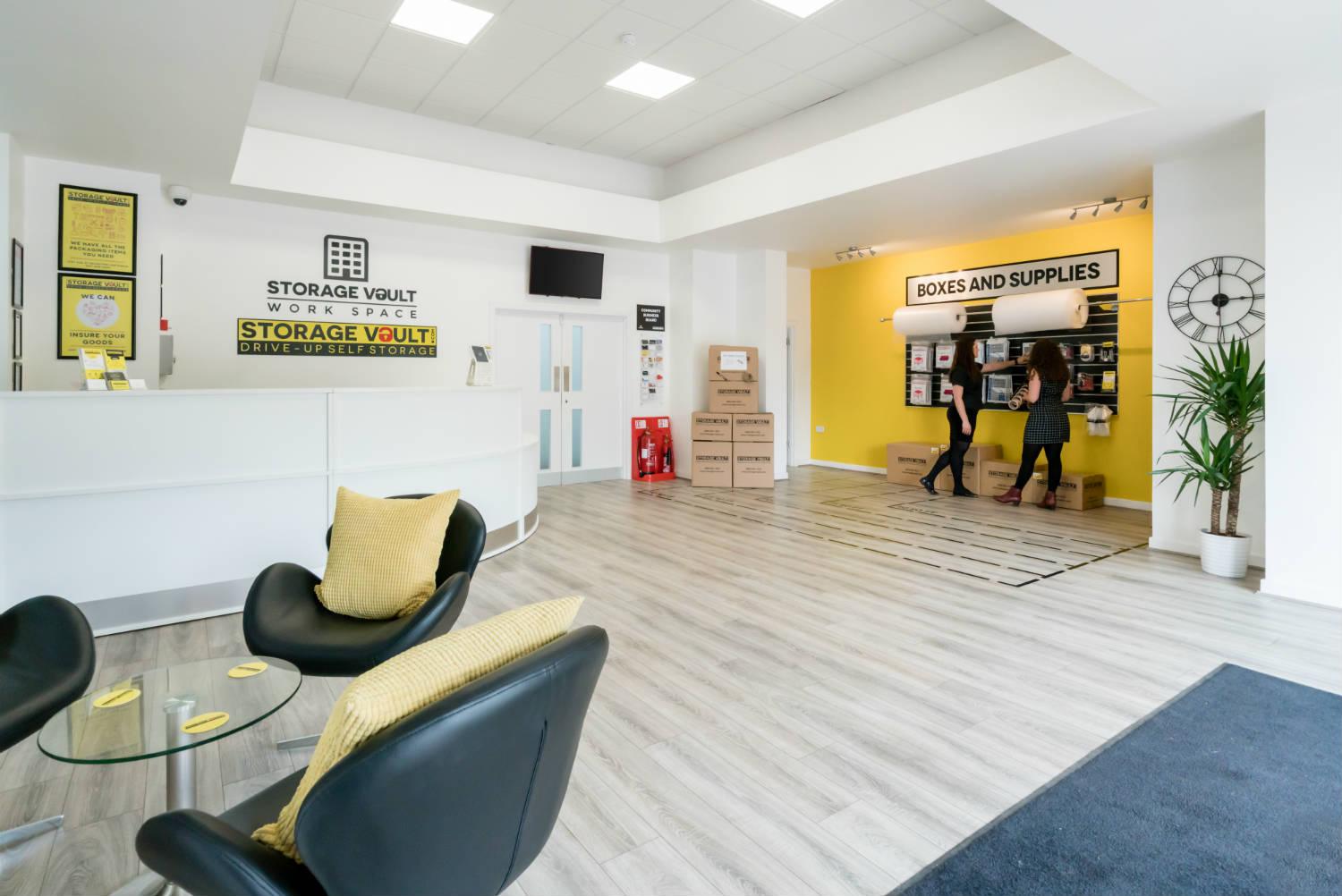 If you're a small business owner or entrepreneur, Storage Vault Livingston can help you to grow with our fantastic self storage services and facilities. With flexible terms, fantastic service, and premium security, Storage Vault makes finding self storage units simple and easy.
Discover some of the fantastic features we offer to business customers today.
Located less than a 10-minute drive from West Lothian College, Storage Vault Livingston offers a super convenient self storage solution to students in Livingston and the surrounding areas.
Whatever you need to store, our units are high-quality, flexible, and affordable – perfect for students looking to store on a budget, with an option for everyone.