Self Storage In
Easterhouse
We provide our clients with flexibility in a number of ways. We allow them to pick up and drop off items whenever they please, which is a rarity in the storage world. Storage Vault also doesn't lock clients into longterm contracts or for them to pay a security deposit. We also offer top-quality security with our around the clock CCTV. We can't think of a more comprehensive service from another storage team. However, you can have a quick look at our reviews if you don't want to just take our word for it.
If you're in need of storage in Whifflet, your closest Storage Vault facility is located only three miles away in Coatbridge.
Our Self Store Facilities Close To Easterhouse
We are the perfect choice for Easterhouse residents. Storage Vault Coatbridge, Storage Vault Glasgow Tradeston, and Storage Vault Cambuslang are all just a short hop away. All of our sites can be easily reached by bus, train, or car. Just give us a ring to see if we have a space for you!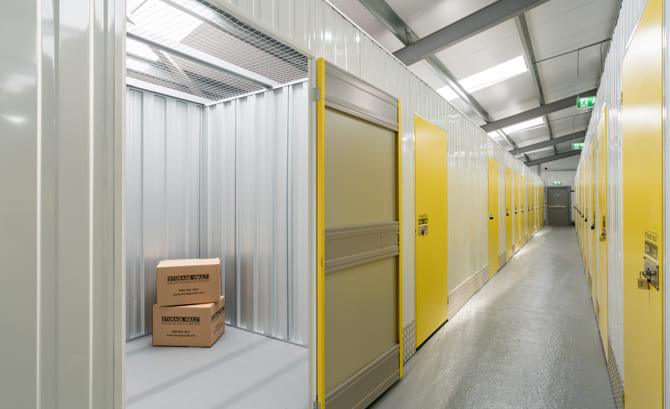 Delivering consistent first-class customer service is what we're all about here at Storage Vault. We have over 15 years of experience in this industry so we know how to cater to each customer's unique needs. Our units can be rented on a flexible lease, are priced competitively, and are closely monitored with 24/7 CCTV.
No Deposit Needed
All Ground Floor Units*
Access 6am - 10pm
24/7 CCTV In Operation
Keypad Entry System
Clean, Dry, Safe & Secure
Best Value Guaranteed
*Storage Vault City Centre and Storage Vault Coatbridge have units on upper floors.
Business Storage
Having storage ready is essential in today's world. Businesses should always have a backup storage solution because it will come in handy sooner or later. That extra space can be conducive to productivity and boost your workers' efficiency. Less clutter means less time spent having to look for something, and it won't interfere with the usual flow and ebb of a daily 9 to 5. Storage space is versatile in that it can store a number of things. For instance, transitioning from paper to paperless will free up a lot of space but then you'll need a temporary site to put your cabinets and folders in. Old and broken equipment, such as a computer monitor, keyboard, mice, old printer and office chair are better left out of sight and dealt with appropriately, and yes, a storage solution is the best answer for that.
Renting business storage in Easterhouse will, in fact, save you money in the long run. This is for a number of reasons. For small enterprises, a small office will usually suffice. But as you grow so do the demand for more space. Instead of having to rent a bigger office for a small team, you can opt to get business storage. We know that office space is expensive. If you can stay at your current office for longer it saves you from moving costs. You also won't have to pay more rent for a larger space. Also, instead of having to buy so many boxes and organizers you can just put them in one place and leave all the essential equipment on site. Lastly, numerous studies show that having a clean desk improves worker efficiency and productivity, something that you'll want for your business.
Storage Vault is your go-to business storage near Easterhouse. We are unlike other storage solutions in that we're focused on providing you with exactly what you need. One way that we rise above the competition is that our customers can come in anytime during the day (or night) and put in items in their assigned storage space. We believe that storage should be accessible 24/7 and you don't need to wait (and waste your time) for a storage facility to open. Security is also a top concern and that's why we have several. Aside from our guards we also have installed security cameras to protect your valuables. Other than that, our storage facility is always clean and maintained properly by industry standards. You won't find water damage or environmental damage in your storage room. We ensure top quality storage near Easterhouse.
Student Storage
A storage solution becomes a must-have if they won't be staying in your home. It can act as an in-between for putting stuff in, like bicycles, surfboards and other casual hobby items when exams are coming up. It can be a spring break storage space that they can reach into when they need some good old rest and relaxation after a tough semester. Having student storage in Easterhouse can save your student from having to go all the way to your house and dumping his or her stuff in, and saves petrol money too.
Now when your child is going to college and living in a dorm then he or she won't have enough space to put extra stuff in, and this is where student storage can help. With limited space dorm rooms tend to clutter up quickly which lead to lost productivity. When they're constantly distracted by non-educational things they tend to stray off studying. Having a storage solution nearby can help in this regard. You give them the key and add a bit of responsibility on their shoulders while they keep their study space neat and tidy. You'll be surprised at how well they will perform when they're focused and free from unnecessary distractions.
As it stands, renting a student storage is not a waste of money. In fact, it will save you more money on petrol and other expenses. Your child will appreciate not having to drive home to put their stuff away. All they need to do is visit their student storage and come back and study or attend classes. You get peace of mind knowing that they will have the extra space and their dorm and desks won't get cluttered. Without distractions, they can focus on studying and get more than just passing marks on tests and critical exams.
Personal Storage
A common problem in Easterhouse is the lack of storage in homes, apartments and condos. When moving into a new house, you'll have all the space where you can put your belongings. But as time goes by your possessions will pile up. Soon you'll have drawers full of stuff you're not willing to sort out yet. This applies to the things you have in the attic, the garage and even in your room. The most probable solution is to sort out the things you don't need from those you do. However, this takes time and isn't always a black and white affair. For instance, what if you're holding on to valuable furniture that you don't have space for at the moment.
Or, you could be moving but don't want all your stuff moved yet. If this is the case, Storage Vault has personal storage in Easterhouse you can rent to solve this problem. After securing one, you'll finally have something to fall back on after college, during moving or just an extra option for when you don't want to dispose of your precious items yet.
If you haven't tried personal storage yet, now is the best time to do so. Having that extra space acts as insurance for events that you might not be prepared for. It's separate from your home or office and therefore the term 'out of sight, out of mind,' rings true. No more distractions or worrying that your hobby, painting or expensive furniture will be left out in the elements. You can just send it to your personal storage. Once you have a buyer or have a space you want to put the item in, just visit the storage facility and get it, then drop it off at the preferred location.
Document Storage
Documents can take over half or more of your office space if you're not careful. It tends to sneak up on you and your employees each day; as more and more paperwork gets filed and sent to the 'completed' section they take up more space. They contain valuable information it's not always a good idea to dispose of them. However, the longer you wait the greater the issue becomes. The answer is document storage in Easterhouse that serves as an extra space for your documents.
At Storage Vault, we provide exceptional storage services in Easterhouse and the neighbouring areas. We understand that document storage isn't just storage- it needs a dry environment that's free from mould and insects that could damage or degrade your precious files over time. For this reason, we keep our storage facilities clean so it passes our customer's requirements. You'll be able to put in your papers, files, folders, entire cabinets and boxes of documents and it will be preserved until the time comes that you'll need them again.
Document storage in Easterhouse is the direct answer to these problems. Rather than having to put the mounds of paper in your garage or attic, you can utilise storage near your business or office. You or your employees can then begin a program where the documents are organised in the storage space. If you wanted, you could turn them into e-documents as an additional backup. It's not just the paper trail headache that will be fixed. Your office productivity and mood will be lifted as there's more room to breathe, and productivity will be back to where it was. Your office can flourish, and you'll finally have space to store your documents in the future.
All of this can be possible by renting document storage in Easterhouse. Storage Vault is the number one choice for Easterhouse offices and organizations that need space for their documents.  We take care of your storage space and make it clean and secure. Aside from our personnel we employ the use of CCTV cameras for 24/7 surveillance.
What Our Clients Say
"We used the Storage Vault whilst moving house last year. We were very happy with the service provided by the team. The 24-hour access was extremely useful! Highly recommend these guys."
Benjamin Wilson
"Really helpful staff. Quick and easy. And they gave me cashback for referring a friend. Really good service, easy to access the gate and building, storage units of many different sizes available."
Stephen Tarrant
"Great, friendly service. Informative from the beginning. Deborah took me through everything I needed to know and made the whole process easy. Units are great - clean, secure and well maintained. Magic."
Chris Whitehouse
What Type Of Self Storage We Specialise In
Getting some lovely new fuzzy carpet put in or are you in the midst of a big move? Store your household possessions with us for as long as you need to protect them from damage while you're organising your space.
Attention, Easterhouse entrepreneurs! Freshen up your workspace by storing your excess equipment and documents with us. Available for you to retrieve at any time, our storage units are a fully secure short or long term home for your business essentials.
Where will you keep your things while you're sunning it up on your semester abroad or couchsurfing before your student flat lease begins? We know how stressful being a student is, so store your things with us and we'll transport them from your student digs to our facility for free!
FAQ's About Self Storage In Greenock
Book Your Self Storage Unit Today
Half Price For The First 2 Months - All Units