Top 10 Brilliant Tips For Moving Home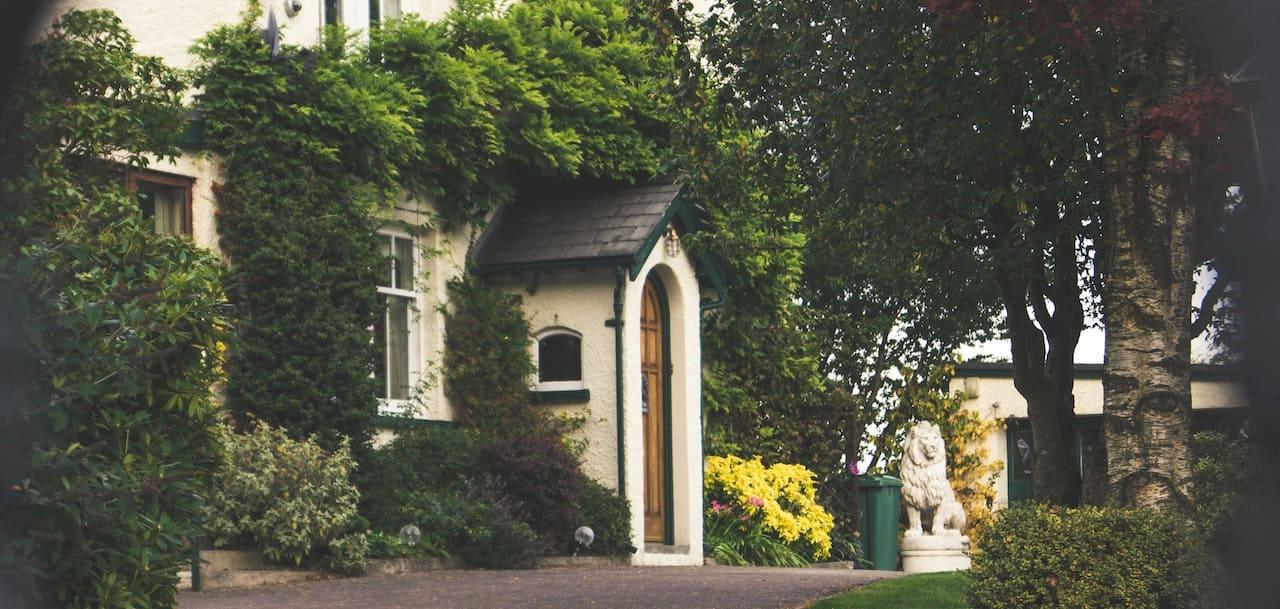 Moving to a new place is hard work. It takes a lot of planning and a lot of doing.
We've thought long and hard about how to make your move as 'easy' as possible – as a result we've asked some experts' for advice and come up with 10 tips for moving home.
1. Set A Budget

Before you start scouting for a new home, you need to have an idea of how much money you've got to play with. Setting a budget for your household is crucial. Do your budget right – and you'll avoid unpleasant surprises when your direct debits go out at the beginning of the month. Unsure how to set a budget? Check out Money Dashboard. A free budgeting tool – made in Scotland

2. You'll Need Boxes
If you've got a lot of stuff – you'll need a lot of boxes! If you've ever played Tetris you'll know that you can't stack a football on a bicycle on a vase. You'll need to get boxes that are similar in shape – so they can be stacked. You can buy moving kits with all the boxes you need from Big Brown Box.

3. Think About Transport
Who's doing your moving? If you're outsourcing the hard work you need to book a removal company for your big day, Comparemymove compares the best removal companies and gives you the best deal in your local area. If you're planning to DIY then you should probably borrow or book a van. Local Pixo Rental will give you a fair price and even deliver the van to your door. Should you want to compare the bigger rental services, then check out Van Rental UK or Kayak.


4. Label Your Boxes
Think before you start throwing your things into random boxes. Read 50 packing tips for moving house, and label your boxes! If the boxes have labels it'll be easier to unload them from the van, and likewise unpack.
5. The Easy Access Box
Pack a box of essentials (loo roll, snacks, sellotape, duvets, cups, keys, clean underwear, phone charger etc.).This way you'll not have to unpack your entire wardrobe to find a pair of clean pants, or search 13 boxes to find the keys to your car. Unpacking a hundred boxes is exhausting – accept that you probably won't get it all done in a day.
6. Arrange Storage
Consider arranging storage for the boxes that you aren't in a hurry to unpack – nobody needs beach wear in Glasgow in the winter. Try our storage calculator and unpack things in your own time.
7. TV Wi-Fi & Landline
Changing and setting up TV, internet and landline can take a while. The 'how, and what to do' differ for every service provider – have a look at their website or give them a ring to find out what you need to do to make sure the WiFi is up and running ASAP.
8. The Big Address Change
The big address change.. This is a devious but critical task to remember when you're re-rooting. You need to change your address with HM Revenue, your bank, insurance, your job, school and whatever else you can think of. Here's a handy checklist that makes sure you get through them all. You can pay a small fee and have Royal Mail redirect your post for a set time – then you can change the addresses as you go.
9. Remember Meter Readings
Make sure you note your final meter readings and inform your energy provider when you've moved. The same goes for your new place – note the readings and inform the provider to ensure you're paying for you, and only you.

10. Cheers To Your New Home
When you've unloaded some boxes and your stomach starts to rumble there's nothing else to do, but order a takeaway and have a picnic on the floor. Pop a bottle of prosecco and cheers to your new home!
Wish you could print the brilliant tips and put them on your fridge?
We've made an infographic for you to take away.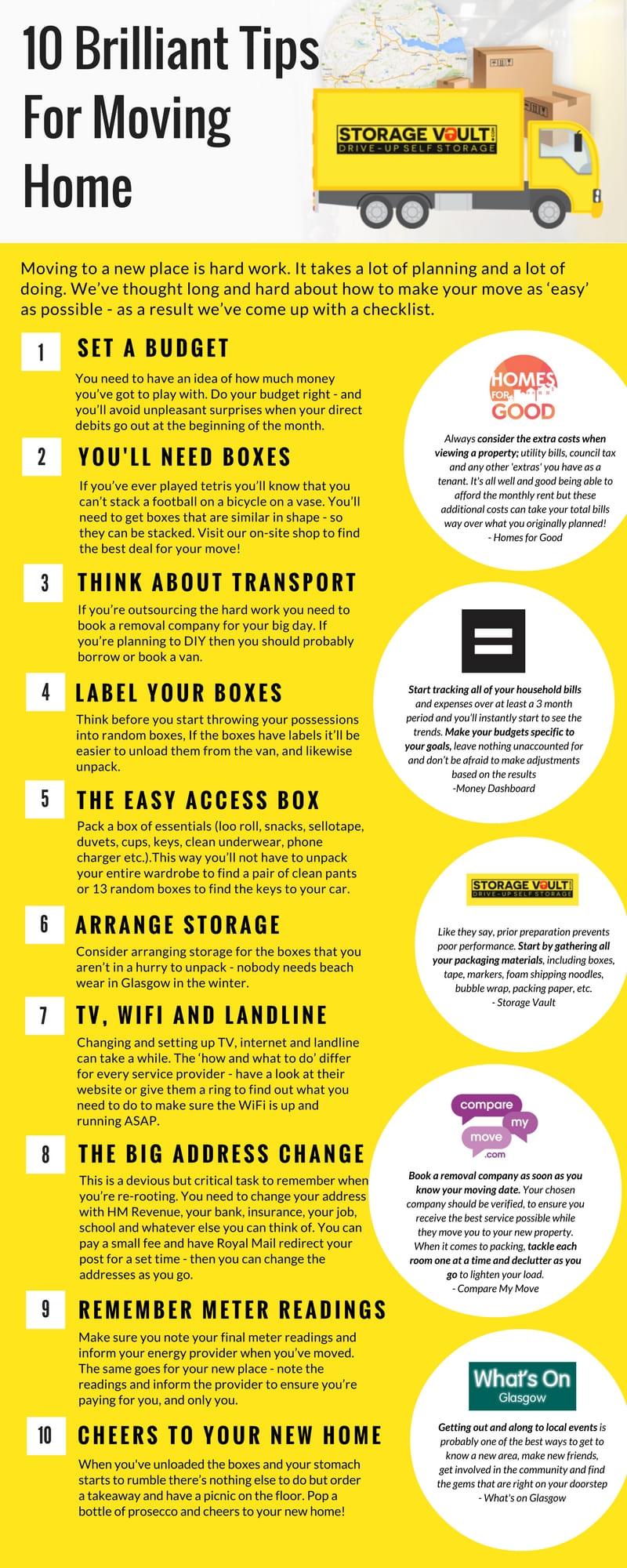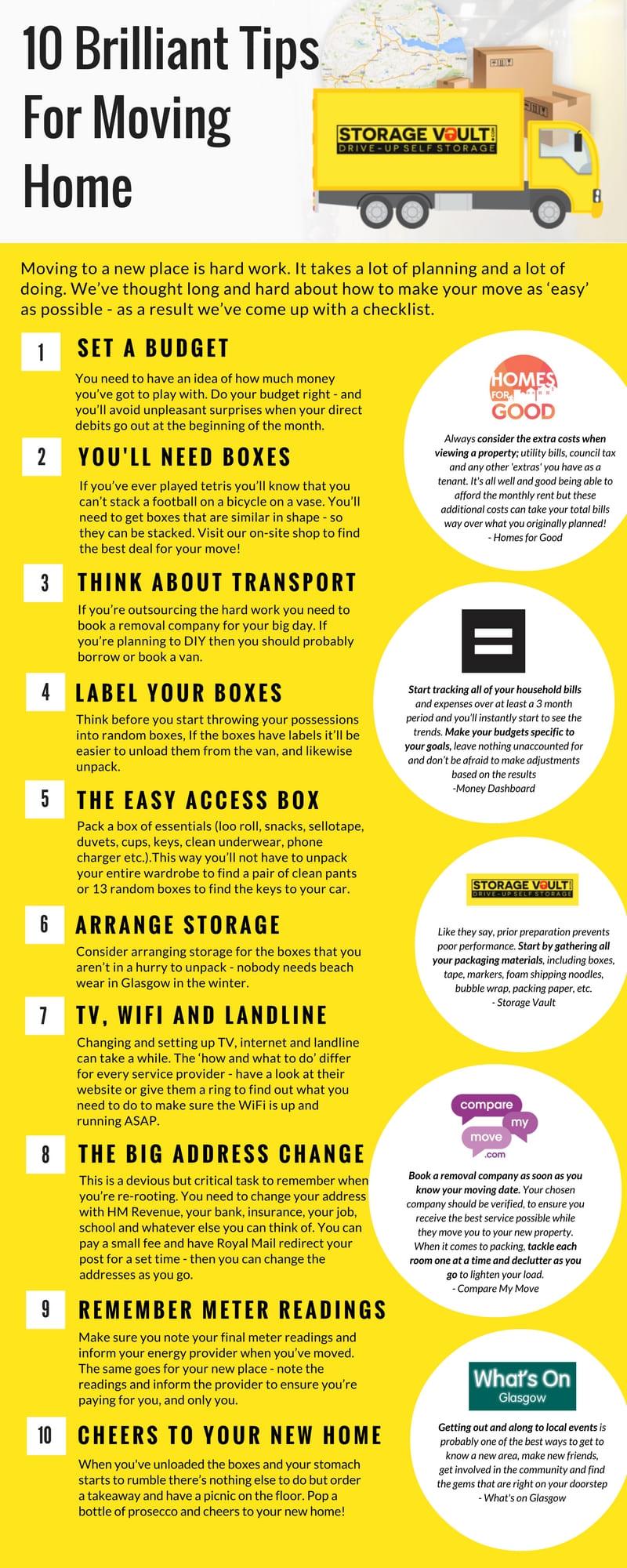 Please fill out our contact form below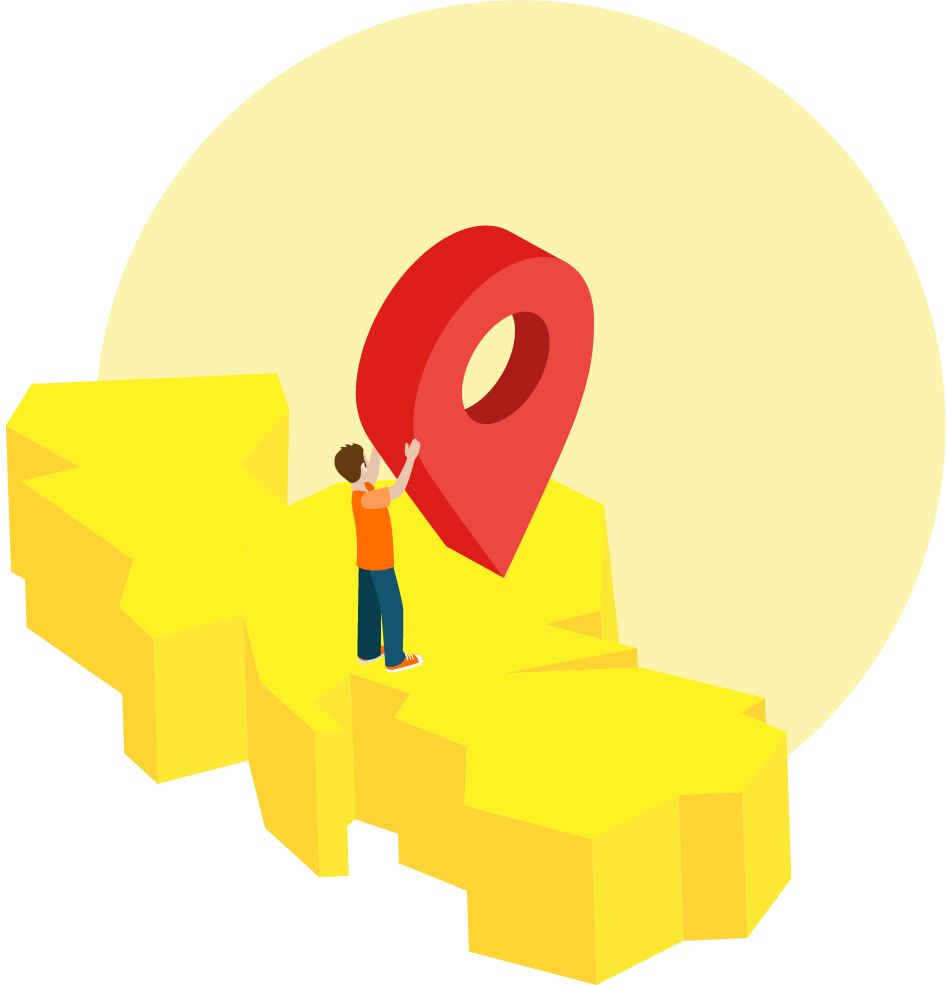 How Much Storage Do You Need?