News, - 19 December 19
Business Storage Kirknewton
It's the 19th of December, which means it's less than a week until Christmas! Even more excitingly, you only have one more full day of work in the office before you're off for a week or two. We believe the best gift you can give yourself this year is a good start to 2020. No one wants to come back to a cluttered office. Give your business a fresh start with our business storage in Kirknewton. Spending the last couple of working days of the year getting prepared for the new year will be a lot more advantageous than trying to start a new project that you'll forget the details of by the time you come back. By giving your office the extra space that a storage unit provides, you'll be more efficient when it comes to decluttering and refreshing your business.
Maybe you don't have the time to clear your office before Christmas. To be fair; two days isn't a lot of time in which to accomplish a lot. However, that doesn't mean that you can't make a start on decluttering soon. New year resolutions don't work for everyone, but that doesn't mean you shouldn't try. At the very least it is useful to set your business some targets and goals that you want to achieve by the end of 2020. Decluttering your office is a very attainable goal that you could accomplish in the beginning half of the year. Our business storage in Kirknewton can help you to do this. You will have an extra space in which to store miscellaneous items that you aren't sure of the importance of. Your office will be clear, and you won't have discarded any important documents or items accidentally in the cleaning rush.
Our business storage in Kirknewton isn't only useful when it comes to decluttering your office. There are a number of scenarios in which business storage can be an asset to your organisation. For example, if you're looking to switch premises, a storage unit can be a life-saver. It's very often the case that you're not given a lot of time in which to empty your old office. So, you hastily take everything from the old location to the new one without much time to plan. This isn't ideal as you don't have the proper time needed to organise your new space. However, if you make use of a storage unit, you have an in-between space between your old and new office. It awards you some extra time so you can have a fantastic new office space.
Our business storage in Kirknewton is perfect for any business due to the security and flexibility of our service. We utilise CCTV around the clock to ensure that your items are kept safe. Storage Vault allows clients to access their units via a secure key-pad entry system. Not only is this further protection for your items, but it also means you can access them whenever you want. Many other storage locations require you to visit during strict office hours in order to retrieve and store items; this isn't the case at Storage Vault.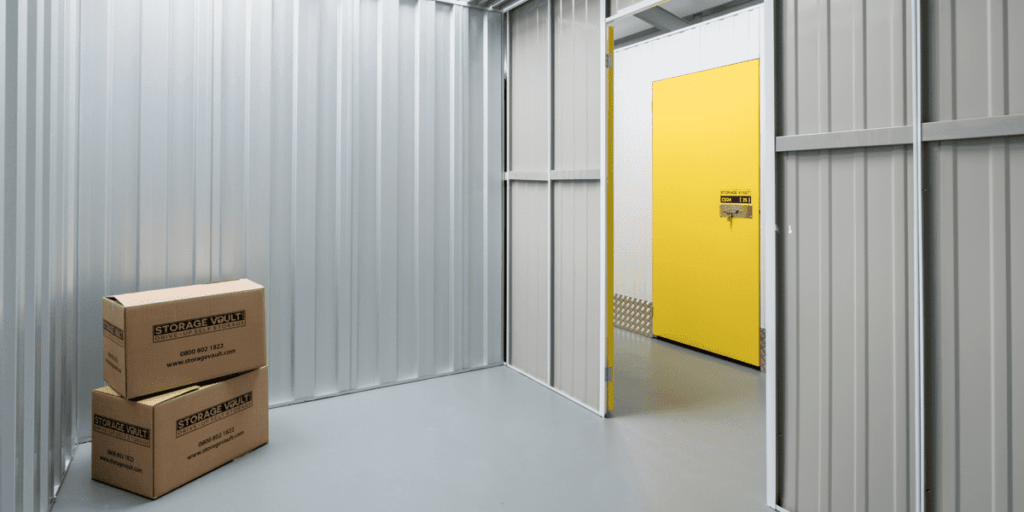 If you're a business that wants to declutter your office this festive season, our business storage in Kirknewton is the perfect choice for you. For more information please feel free to get in contact. Our team is happy to help answer any queries. Additionally, you can find a lot of extra information on our website.