Under the Stairs Ideas: How to Maximise your Space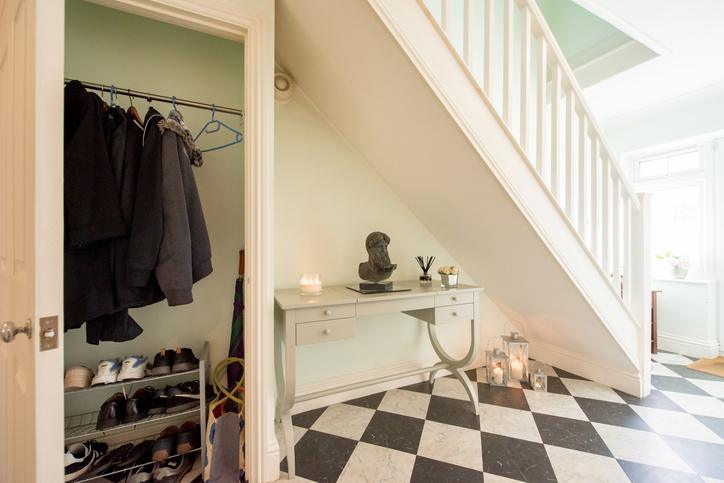 Maximise Your Under-Stairs Space
If you have a cupboard under the stairs, you might not be sure how to best use it. What is the best thing to put under the stairs? Sure, you could stash your coats, umbrellas, boots, and tennis rackets under there, but isn't there a better use for your under stairs storage? We have some creative yet practical under the stairs idea to help you maximise your extra space.
Make Your Storage Count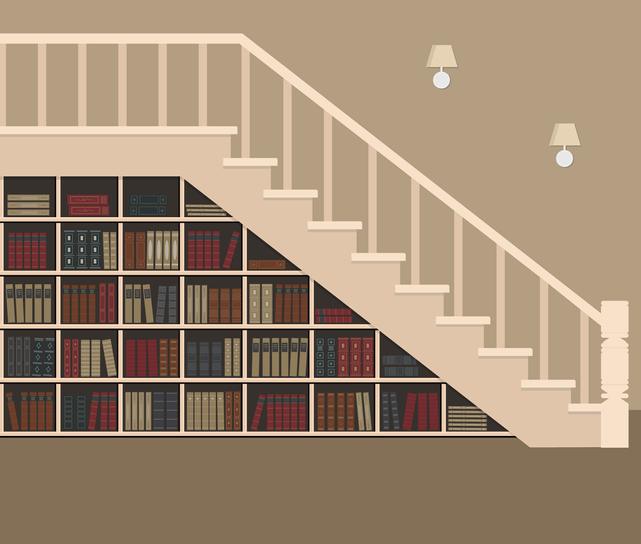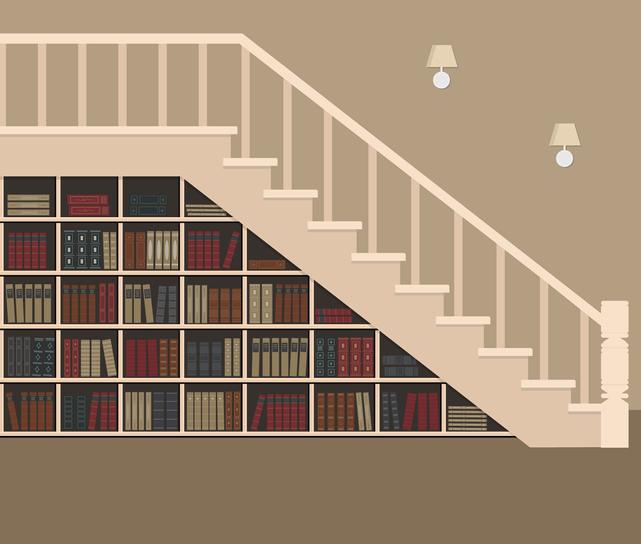 Build in a library. Turning your under stairs space into a mini library looks stunning, and it is also a wonderful place to put your books. You can break up the look with a few photo frames or potted plants, or take it a step further and incorporate a cosy seating space so that your under the stairs area becomes a little reading nook.
Install stylish cupboard doors. Cupboards under stairs need not be strictly utilitarian. Invest in custom-fitted cupboards that fit seamlessly into the space without handles. You'll have plenty of space to store things without feeling like your entrance is cluttered.
Add a shoe closet. Shoes are often a source of clutter, because no one feels like putting them away and they end up piled around where they eventually get separated from their mates and just cause a general nuisance. It is improbable that installing shelves under your stairs will inspire you to neatly put your shoes away when you come home after a long and tiring day. However, if you keep a box by the door for your frequently worn shoes, you can store all of the special occasion shoes in see-through boxes, tucked neatly away in the under stairs cupboard.
Create unique hallway storage. Think creatively about your space. Is it large enough that you could incorporate coat hooks, a bench and storage basket compartments? If so, you can create an attractive area to store essentials like coats, umbrellas, and shoes. Is it deep enough to warrant a storage trolley? This can be a great organizing tool, allowing you to utilise the space without having to rummage behind things. Combine storage trolleys with vertical storage like high shelves or hooks, and you'll have a versatile space for whatever you need to store. You can also choose a custom solution like shelves that hide behind a panel and slide out when you need to access them, creating cunning yet invisible storage in a stylish under stairs space. Another custom idea is shelves, built to perfectly fit into your under stairs area and beautifully make the most of the space.
Construct a Fun Space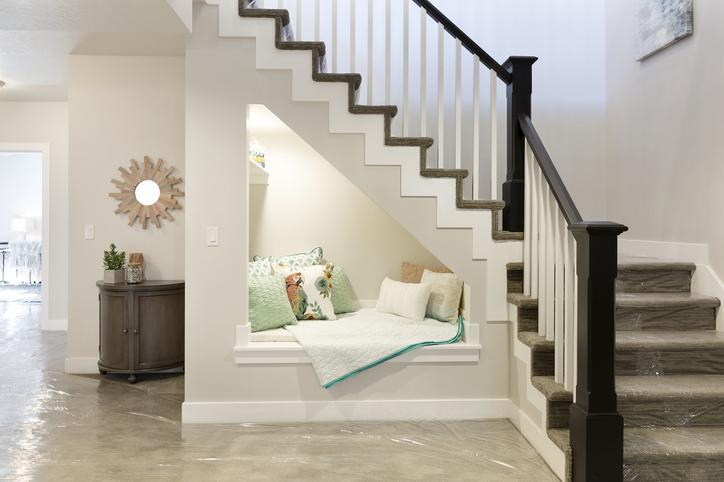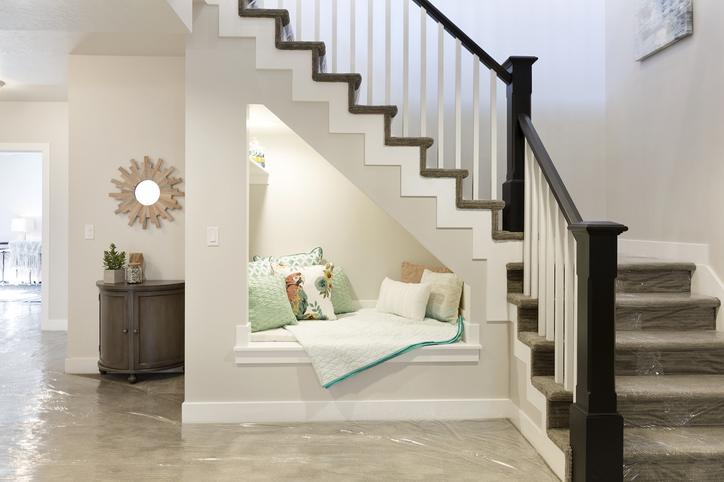 Design a cosy nook. We have mentioned a reading nook, but it does not have to incorporate books to be a snug little spot to take a moment of quiet. Remember when you were a child, and you would build a little den for yourself? This can be the adult version, with comfy pillows, a cosy throw, and perhaps a wall sconce for reading light or some storage tucked away underneath.
Have a little playroom. What is more fun for kids than a secret space to go and play? You can keep it simple, with toy storage and a little chair, or get creative, either making it a hidden door where they can feel mysterious, or creating a space that looks like a little house, complete with a front door. The benefit for the adults is that a cosy little playroom tucked under the stairs can contain the clutter of children's toys and keep it from spreading throughout the house.
Give your pets a special spot. The space under the stairs can easily be fashioned into a nook where your pets can retreat when they need some alone time, with a soft bed, some blankets, and a few toys. Creating an interior dog house not only gives your pets a refuge, but it also looks much better than a cumbersome crate in the living space.
Gain Some Extra Seating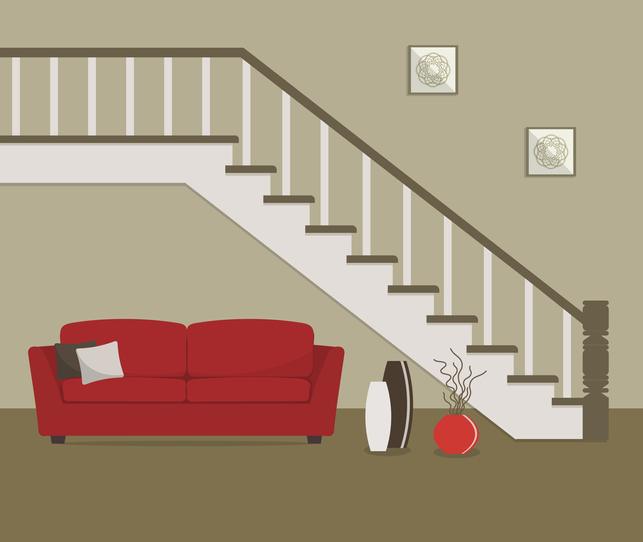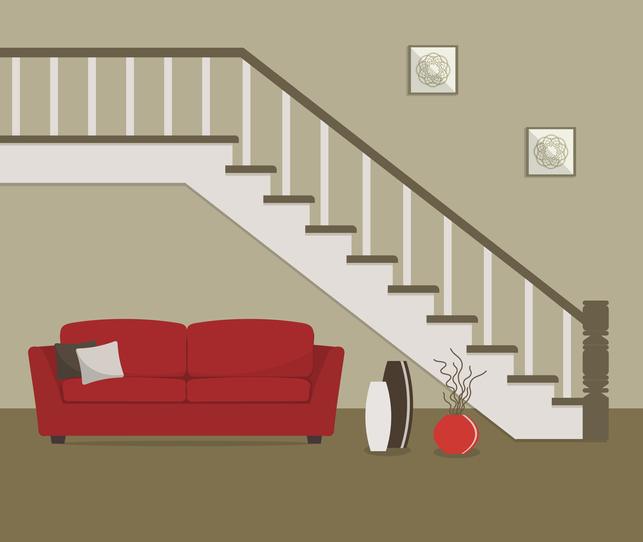 Add a loveseat to your living space. Who says the space under the stairs must be for storage? It could be the perfect spot to squeeze in some room for a few more people to gather in your living room.
Make your entryway more welcoming. Picture a cosy chair next to a useful cabinet, with a rug underneath it all to separate the space. Alternately, a storage bench with hooks above for hanging coats is more than a glorified hall tree when the nook is painted or wallpapered in a bright and cheerful colour.
Use a storage bench to pull double duty. Here, you can have a space to sit and take off your shoes, with room beneath to store them. Incorporate some stylish storage baskets for the win.
Create Something Utilitarian Yet Chic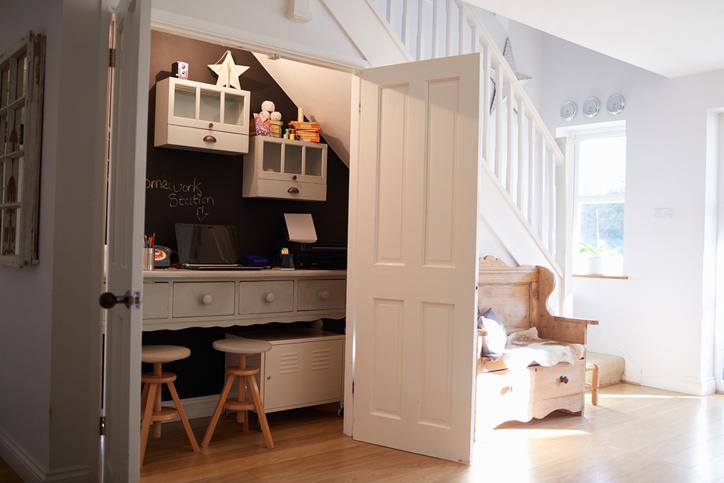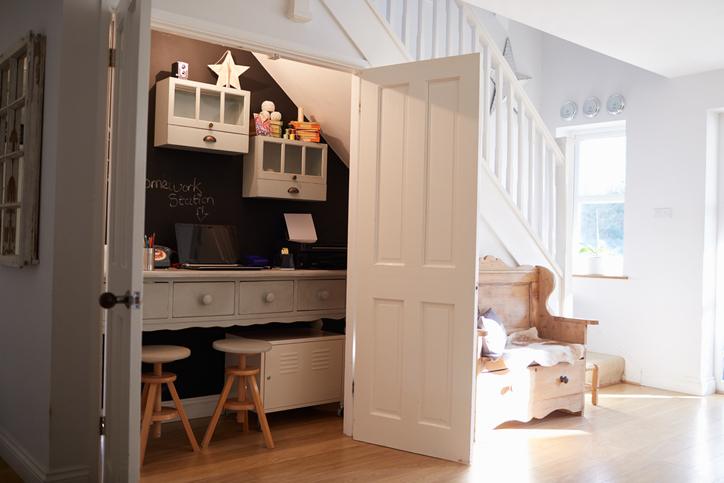 Add a downstairs toilet. What is more practical and convenient than an extra loo tucked under the stairs? This also offers you the opportunity to play with dramatic design ideas like bold tiles or wallpaper, in a small space with just enough room for a toilet and a little wall-mounted basin.
Tuck away a little office. The area under the stairs may be the perfect size to attach a desk to the wall, build in some shelves, and place a sturdy office chair. You will have your own place to work without having to take up an entire room of the house.
Plan the perfect pantry. If your under stairs cupboard opens to the kitchen, it can make for an amazing pantry. Fit floor to ceiling stairs and hide them behind the door, for a brilliant place to store everything you need to survive the zombie apocalypse. You could also make it a butler's pantry, with storage cabinets and a counter to allow not only for pantry storage but also a convenient space to place small appliances or a little wine rack.
Hide your washing machine behind a door. Washing machines can be an eyesore, but with the right wiring and a clever door, you can stash your bulky washer right there in your under stairs cupboard. This frees up more valuable real estate, in the kitchen or another room of the house, for something you would rather see than a washer and dryer. You can even get creative with the design, perhaps installing a counter across the top of the machines to give you folding and storage space, or fixing an ironing board to the inside of the cupboard door.
Make Your Nook a Work of Art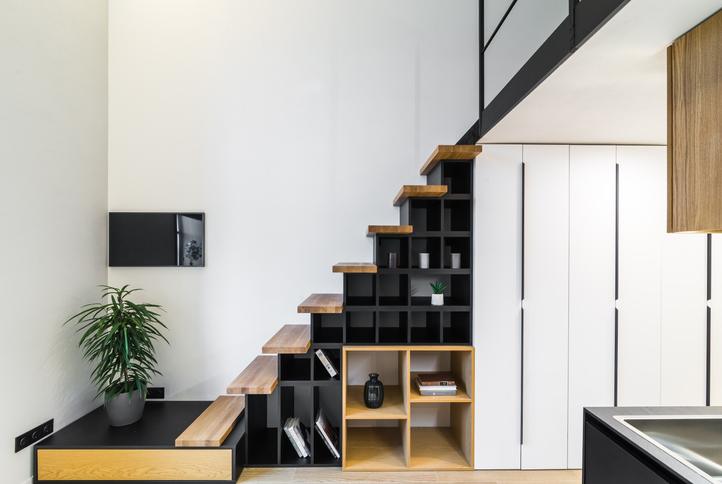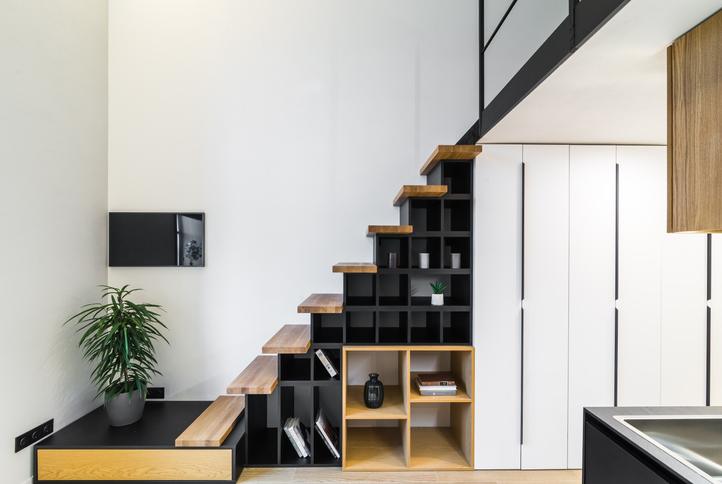 Decorate it with shelves and an artful display. Shelves custom designed to fit under the stairs can look stunning, especially when dramatically staged. Choose your displayed items carefully, lovingly curating a collection of things that are not only beautiful but also meaningful to you.
Create a gallery wall. What better way is there to artfully display family photos? Hang some of your more interesting photographs, and you will have a conversation starter right there under your stairs.
Make it a focal point. Paint your under stairs nook a dramatic colour, hang an interesting piece of art, or make a statement with bold wallpaper. Who says a statement wall has to be a full wall? Your under stairs area can turn heads, rather then being a catchall for junk and clutter.
Find Extra Storage Outside Your Home
It is wonderful to turn your under stairs cupboard into a more enjoyable space, but what do you do with the leftover items you used to stash there? If you need more storage than your home will allow, consider a personal storage unit from Storage Vault. Our 15 locations, stretching across central and western Scotland, all feature world-class security measures, flexible terms, and a wide range of units. We do not tie our customers into lengthy agreements, but offer flexible leases and first-class customer service. No matter whether you need a little space or a large unit for a big move, we have the perfect storage unit for you, with no waiting time to use your space once you make a reservation. Additionally, we offer quality packing equipment onsite, stocking boxes, bubble wrap, padlocks, and everything else you will need to make your storage experience stress-free. Reserve your unit online, contact us through our website, or call 0800 802 1822 for general enquiries.
Please fill out our contact form below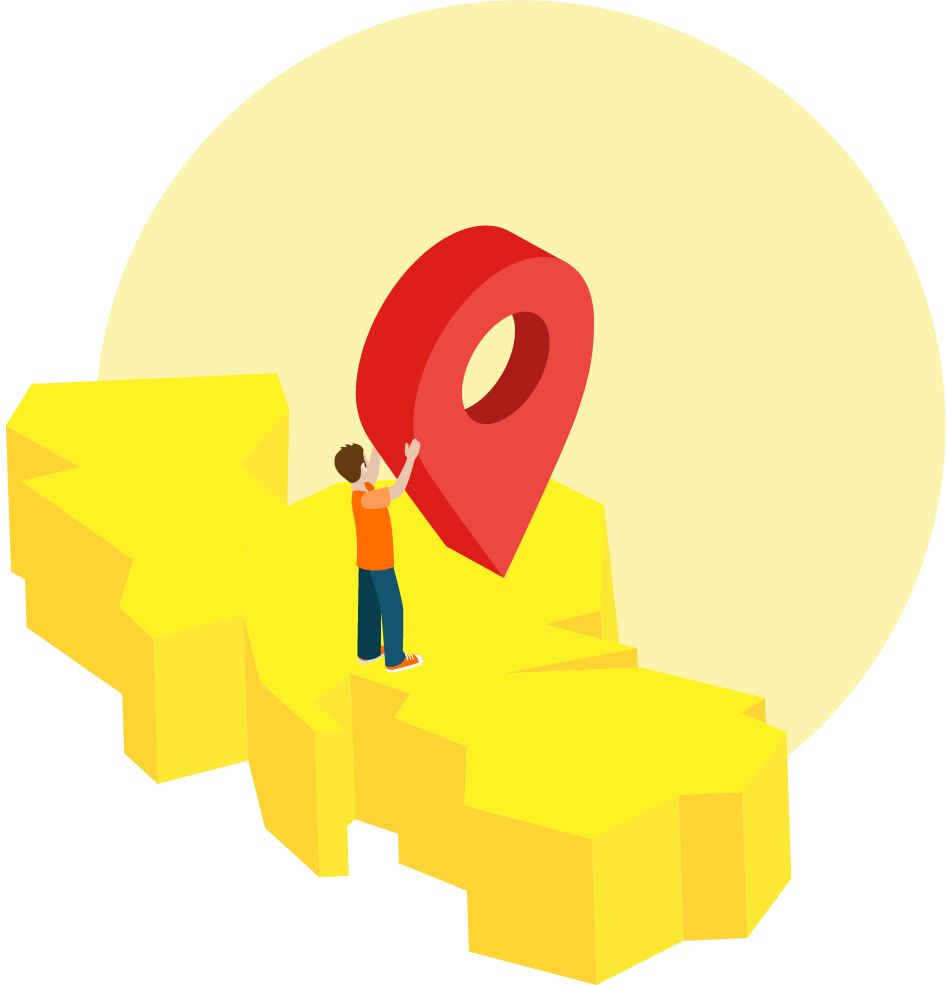 How Much Storage Do You Need?