Self Storage In
Airdrie
Whether you're looking to store furniture, paperwork, clothing or antiques; Storage Vault Coatbridge will have a storage unit perfect for your requirements. You don't have to worry about paying excess for a unit size that you won't be able to fill. This is because our self storage in Airdrie allows you the flexibility of choice. You can check out how little you could have to pay by making use of the unit price calculator on our website. You won't find a better price for a service this high-quality and adaptable. We also don't need a deposit, which is a rarity when it comes to high-quality storage solutions.
Our amazing customers have rated Storage Vault as a five-star self-storage provider on Trustpilot, Facebook and Google!
Our service is designed to suit the needs of both personal and business customers. We offer flexible and competitively-priced lease arrangements for units that are excellently maintained and incredibly secure. Give us a call today to see what we can do for you!
Our Self Store Facilities Close To Airdrie
We are the perfect choice for Airdrie residents. Storage Vault Coatbridge, Storage Vault Glasgow Tradeston, and Storage Vault Cambuslang are all just a short hop away. All of our sites can be easily reached by bus, train, or car. Just give us a ring to see if we have a space for you!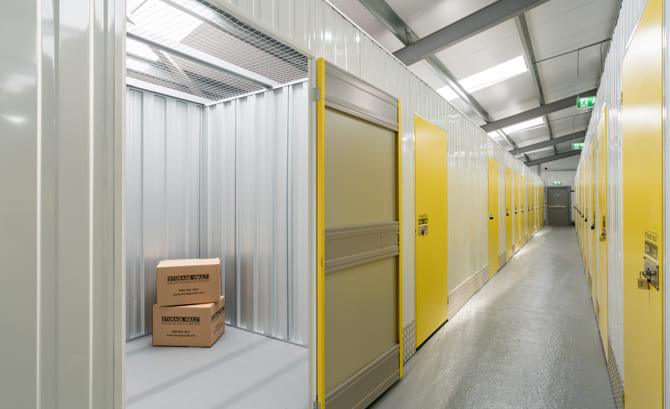 Delivering consistent first-class customer service is what we're all about here at Storage Vault. We have over 15 years of experience in this industry so we know how to cater to each customer's unique needs. Our units can be rented on a flexible lease, are priced competitively, and are closely monitored with 24/7 CCTV.
No Deposit Needed
All Ground Floor Units*
Access 6am - 10pm
24/7 CCTV In Operation
Keypad Entry System
Clean, Dry, Safe & Secure
Best Value Guaranteed
*Storage Vault City Centre and Storage Vault Coatbridge have units on upper floors.
What Our Clients Say
"We used the Storage Vault whilst moving house last year. We were very happy with the service provided by the team. The 24-hour access was extremely useful! Highly recommend these guys."
Benjamin Wilson
"Really helpful staff. Quick and easy. And they gave me cashback for referring a friend. Really good service, easy to access the gate and building, storage units of many different sizes available."
Stephen Tarrant
"Great, friendly service. Informative from the beginning. Deborah took me through everything I needed to know and made the whole process easy. Units are great - clean, secure and well maintained. Magic."
Chris Whitehouse
What Type Of Self Storage We Specialise In
Getting some lovely new fuzzy carpet put in or are you in the midst of a big move? Store your household possessions with us for as long as you need to protect them from damage while you're organising your space.
Attention, Airdrie entrepreneurs! Freshen up your workspace by storing your excess equipment and documents with us. Available for you to retrieve at any time, our storage units are a fully secure short or long term home for your business essentials.
Where will you keep your things while you're sunning it up on your semester abroad or couchsurfing before your student flat lease begins? We know how stressful being a student is, so store your things with us and we'll transport them from your student digs to our facility for free!
FAQ's About Self Storage In Greenock
Book Your Self Storage Unit Today
Half Price For The First 2 Months - All Units