Whatever your business idea is, you need a home turf.
At Storage Vault – we're smitten by space and how to make the most of it.
We've asked a few recent startups how they managed, and made a list of awesome tips to inspire you so you can set up your perfect office.
What's a perfect work environment for Karen, might be a place where Matt will never get anything done. And that's okay, long live diversity in the workplace!
---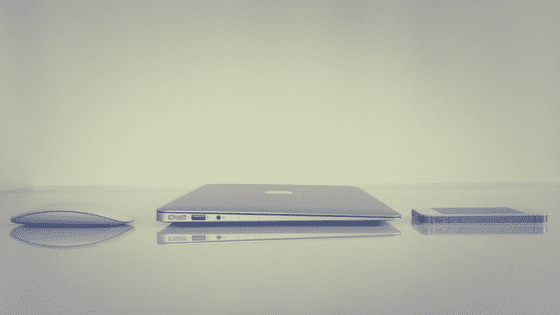 #1 Time to rethink 'the office'?
There's a place and time for everything, and investing in a corporate office in the early stages of your startup isn't always necessary.
"If you're currently building a product from your garage, stay in the garage. Your top priority should be creating an amazing product that people want" Alessia Sannazzaro, Code and Wander
When your business starts taking off, you can start out by renting a business storage space and then eventually move to a larger office.
Jonathan from Ginger Horticulture realised after 5 years of staring at the wall, that he didn't need an office.
"By not having a office, I have been able to work in some very cool spaces. I've proofread packaging by a pool in France. Edited photographs on a patio in Greece and done sales calls from the North of Denmark" Jonathan Ward, Ginger Horticulture
What you need, is a place where you can work. A place where you can get stuff done! If that's a traditional office, then cool. If it's a beach chair – good for you!
---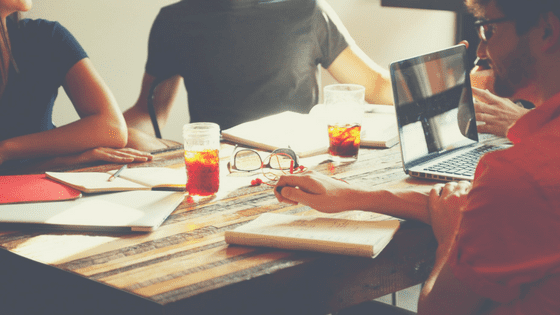 #2 Hot desk, coworking, incubators etc.
Once you've figured out the logistics behind the grand decision – it's time to think about what type of workspace that would suit your business and your budget.
If you need an office buzz to motivate and inspire you, then renting a desk at Rookieoven or an office at Codebase might be right up your alley.
A lot of hot desks and coworking spaces have access to resources that you might not be able to afford as a startup.
Matt from KYO Digital highlighted that it's essential to get the basics right:"You need a quiet meeting room, an area where you can take phone and Skype calls and a separate space where people can enjoy their lunch and chill out"
Rachel from Koru Kids told us that they prefer to spend their money on better things than office space:
"We work out of a free coworking space. It's not beautiful, but it is friendly, centrally located and most importantly, it's free! We can find so many better things to spend money on than office space" Rachel Carrell, CEO Koru Kids

---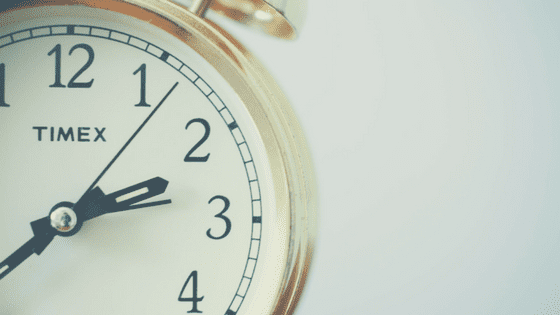 #3 Getting down to business
We asked our tenants at Storage Vault Workspace for their top tips when managing time, and getting down to business. Here are some of their top tips:
"Being productive doesn't mean working 9-5 voll gas. Breaks are healthy, if anything you should practise your break skills"

"Cut pop-ups. Push and pop-up notifications are essential for two professions. One; on-call heart surgeons. Two; Wall Street stock traders. For the rest of us, they're nothing but distractions"

"Go on that run. Working out stimulates the release of endorphins – and sets you up for a happier life"
Read our full article 7 Proven Productivity Tips For Getting Stuff Done
---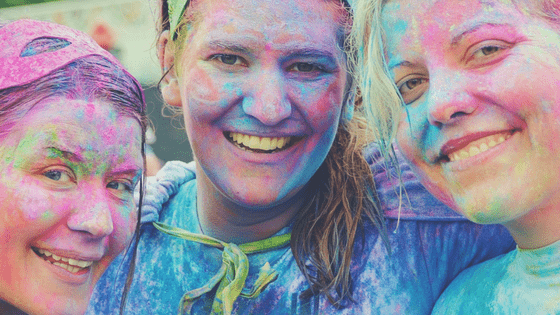 #4 Setting a company culture
When you're starting out, you need to actively work on setting your company culture.
According to TalentRocket culture is shaped through daily work rituals, habits and norms, and these go to hone your company's unique personality.
Laura, Happiness Manager at KeyAGENT told us that their recipe to a strong company culture is combining learning and happiness
"Buy weird toys for the office, give people a welcome party at the end of their first day, hold wacky socials that encourage actual friendships to form" Laura, KeyAGENT
Don't forget to celebrate. When you've found an office that suits you, celebrate. When you've had a good day, celebrate. We often forget to celebrate the progress that we've made because we're so focused on the end goal. Celebrate all your achievements, small or big.
---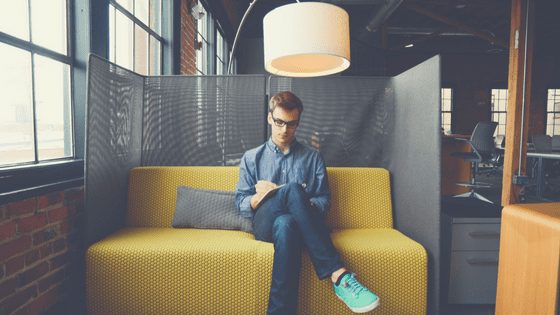 #5 The great interior startup design challenge
What your office needs, depends on your company. But here are some general tips that'll apply to most.
You're gonna need some good desk chairs.
"Take your time to pick out some super-comfy chairs. When you and your team are putting in all the hours under the sun, a comfy bum will keep everyone happy!" Giorgio Cassella, Tutora
Sort your technology. You need computers, a printer, wifi and probably loads of other stuff. Get it sorted, and get started!
Zen- space. No matter how small your work- space is, try to set up a corner where people can lounge! This will be brilliant for catch ups and having lunch.
Splash some paint on the walls, and throw up some wall art. Your office should be inspiring and encouraging.
"Make sure you have an area dedicated to scribbling. Whether this is a flipchart, whiteboard or just drawing on the windows, having somewhere to get visual with your ideas is essential.
Bonus tip – If you're struggling, grab some masking tape and chalkboard paint, mark out a square on the wall and get started on a DIY chalkboard" Giorgio Cassella, Tutora
---
Is your office storage limited? We offer a wide range of flexible storage units, from 25sqft to 500sqft. Whatever your requirements are, we're confident that we've got a perfect space for you.
Give us a call today on 0141 280 3341 or email us at paisley@storagevault.com to hear more about how we can help you